Aug. 17, 2022 • Analysis
The average current combine prices for low-hour, late model harvesters continued to mirror the high heat we had throughout July.  Premium values for these recently sold harvesters are likely to support elevated values as we go into August. Typically the hottest selling month, all the harvest equipment sold should provide plenty of data to observe. Going forward, a limited equipment supply combined with back-to-back profitable growing seasons should continue to prop up values for the rest of 2022. If you are in need of a used combine for this season, be sure to save your search on Tractor Zoom so you don't miss the upcoming sales in your area. 
Tractor Zoom's July Combine Index

Our Tractor Zoom Combine Index for the month of July came in at 147 (above), up slightly from the previous month, and almost just as strong as the record numbers we saw earlier in January through March of this year.  Commodity prices, like we mentioned above, have a direct correlation to this index. You can see the trending average monthly corn prices, yellow, with the index, blue, in the figure below. Yet, demand is not the only driver of this market. The especially tight supply of new, and subsequently used, combines continue to increase the value of these machines. 

John Deere's S680
If you are interested in staying on top of the direction of this market, one of the easiest ways to do that is through Tractor Zoom's 'Favorite' and 'Price Prediction' features.  I walk through how I use these tools, along with our Iron Comps platform, to value a John Deere S680 in this short video. 
John Deere S680's are a great machine to gauge the direction of current combine prices. They are plentiful, which helps reduce statistical 'noise' from outlying auction sales. Then as long as we account for the usage on the separator, we can generally tell the change in the market.  A graph of S680's sold at auction over the past 2 ½ years by quarter with separator hours ranging from 500 to 1,500 is shown below. This last quarter just consists of July, so it is a good recent gauge of what is going on right now. You can see the average hours (line graph) between this current quarter and last year at this time are very similar. Yet, the average price (bar graph) is 44% higher! Now August tends to have some lower quality sales that I'm sure brought last year's number down, but a 30-35% year-over-year price increase has been more of the rule than the exception this year.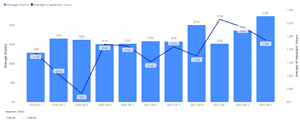 Interested in finding a combine that fits your operation before harvest? Tractor Zoom's saved search is where you'll want to begin. After you've set up your free registration on Tractor Zoom, you can put in all the criteria you want for your ideal machine, then simply click the Save Search button. When your future combine hits the market, you will receive an email alert!  We used this earlier this summer to easily find a seed tender that fit our new planter.  If you are interested in more than just the current combine prices, look no further. You can check out our monthly auction recap for the top selling items each month!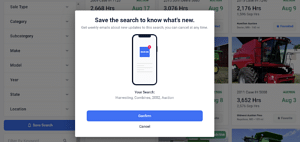 Whether you are tracking the market movement, or moving in the market to find your machine, you need to be proactive in this tight market. It is not the same marketplace we were farming in five years ago. The supply will eventually smooth out, but that will take some time given the complexities of the supply chain. Just don't be surprised when combines bring a 30% premium over last year.