Jul. 19, 2022 • Analysis
This week's What's It Worth? comes from Jim B. out of Indiana. Jim is considering selling his combine — a 2011 Case IH 7120 with only 1,210 separator hours— and wants to know what it's worth to see what he might expect to receive if he sells at an upcoming auction.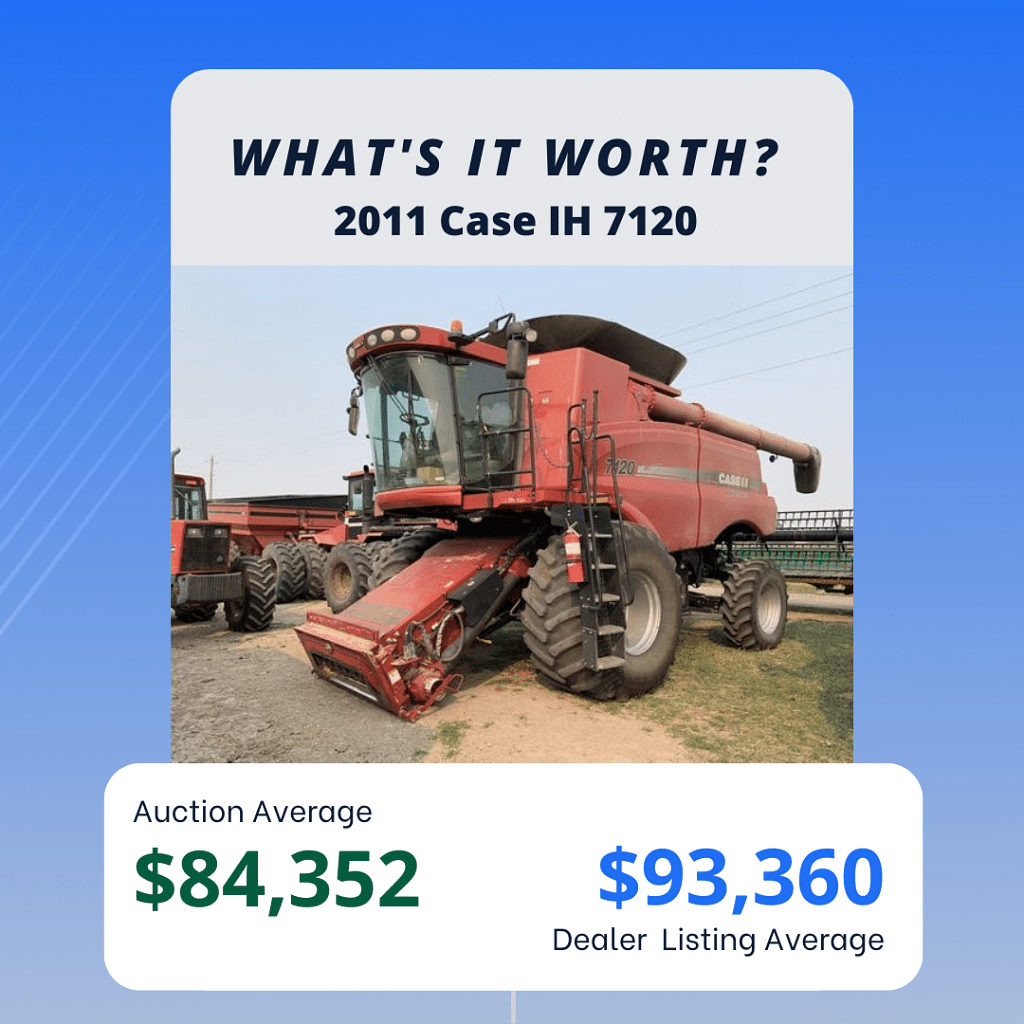 Auction Value
An analysis of Tractor Zoom's Iron Comps database reports an average auction sale price of $84,352 based on 47 sale results for all Case IH 7120 combines going back to March of 2018. Filtering down to those that are closer to Jim's approximately 1200-separator hour combine, we find that 7120s that have more than 1,000 sep hours but less than 1,500 have an increased average auction value of $87,844 based on 16 comparable sales. 
Looking back at May's Tractor Zoom Used Equipment Index review, we saw a decline in the combine index for a second month, which was mostly due to the lack of quality combines available in the market. In the last four years, we haven't seen the supply of quality combines available at auction so low, which may play in Jim's favor if he's serious about selling his 7120. A low-hour older combine in good condition is a rare find at auction and could demand a premium.  In the last 11 months the three most recent 2011 Case IH 7120s at auction had an average of 1,381 sep hours and brought an average price of $121,667!
Dealer Listings
Reviewing dealership list prices on July 10, 2022, we see the average list price of a Case IH 7120 combine at a dealership is $93,360 based on 22 listings since November of 2021. As of this article, Tractor Zoom currently has 10 active Case IH 7120 listings featured on its website, with an average list price of $98,119, which is down roughly $2,000 over the last 30 days.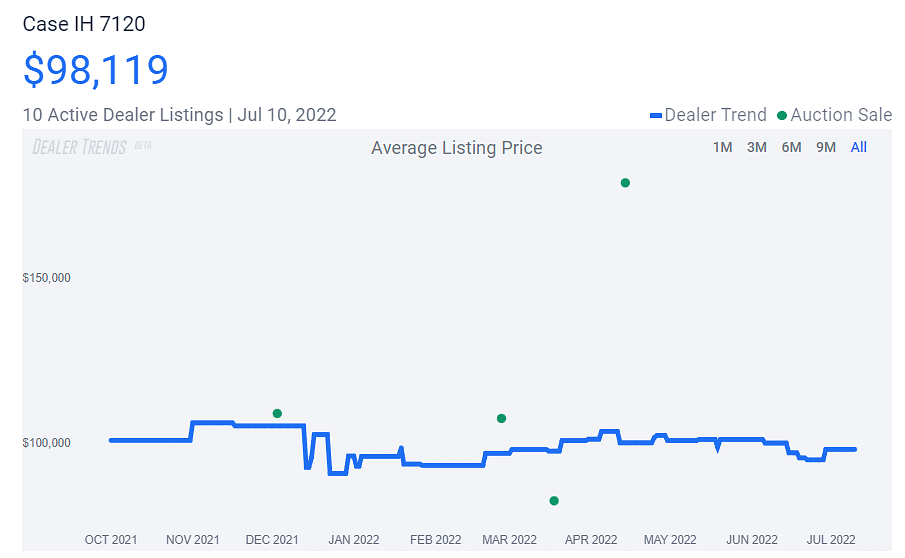 Trying to get a more accurate value for Jim, we can look specifically at only 2011 models that are currently listed or have been sold since September 2021. Using that criteria, our average dealer list price adjusts to $97,923 (based on 7 comps) and if we filter further to only those 2011 lots that have a minimum of 1,000 separator hours, the average dealer price decreases to $95,981 (based on 5 comps).
Assessing Equipment Value
It's important to note that the above is not a complete evaluation or valid estimate of Jim's 7120. Additional information on Jim's combine such as condition, machine hours, drive, or other attachments will impact the estimated value. 
Sellers looking for an equipment appraisal should work with their bank or local equipment dealer or auctioneer to receive a formal appraisal on their piece of equipment.
Farmers looking to understand and monitor the value of their equipment can now build Equipment Lists at Tractor Zoom. Equipment Lists not only help you build an accurate representation of what your equipment inventory looks like and is worth, they also help you prepare the information you need to secure a formal appraisal from a bank or local equipment dealer when it's time to sell.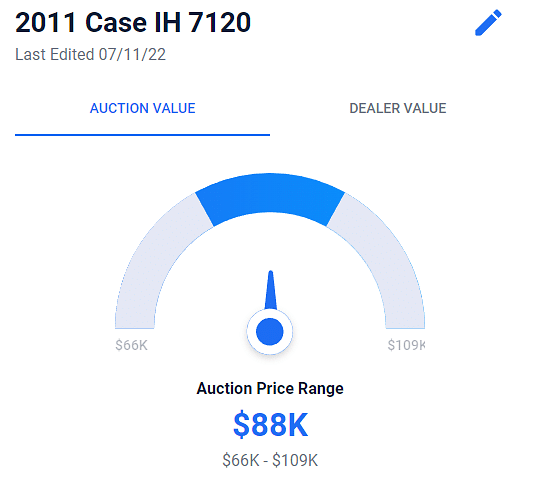 For those looking for a Case IH 7120 nearby or other combines for sale, find available makes and models on Tractor Zoom. If you can't find the exact year or specs you are currently looking for, save your search on Tractor Zoom to be notified when new equipment matching your needs hits the site. And, once you find a make/model you want to keep track of, be sure to Favorite that equipment so you can be alerted when dealer listing prices change, when bidding opens for the equipment, or when the final auction sale price is posted.