Jan. 23, 2019 • Auction Prices
UPDATE!
Tractor Zoom has recently launched Iron Comps Insights, a first-of-its-kind product that provides reliable farm equipment values backed by auction data from over 430 auctioneers across North America! We built it to help farmers make better farm equipment buying and selling decisions! Click here to learn more about Iron Comps Insights and take it for a test-drive!

A Closer Look at One of the John Deere's Most Popular Tractors
Talk to a green guy about the John Deere 4320. Chances are, his eyes will get all misty as he tells you that it was the first "big" tractor his granddad bought new. He'd also probably tell you how it was a workhorse, and it'd run circles around everything else on the farm.
But that was nearly 50 years ago…
Is the Original John Deere 4320 Still Relevant?
What was once a great all-around tractor for a farm in the '70s and '80s is now getting on in years. Is the 115-horse tractor that we all know and love still useful on today's farm? Does that dog still hunt?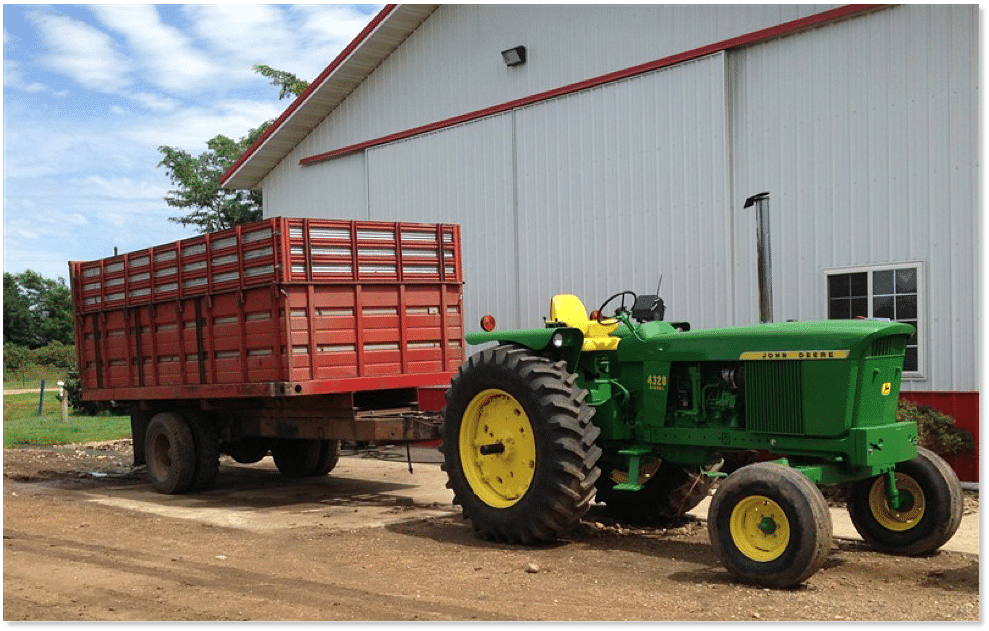 From where we sit, the short answer is yes…to a point.
A Dependable Workhorse
The John Deere 4320 was a great mid-range tractor when it was released: it nestled between the D21 and the 1206, the Massey 1130, Oliver 1950, and the Ford 9000. It was heavier-duty than the John Deere 4020 with a beefy gearset, better cooling, and a more powerful 404 with a turbo. The 4320 earned a reputation of being a trusty workhorse over the years.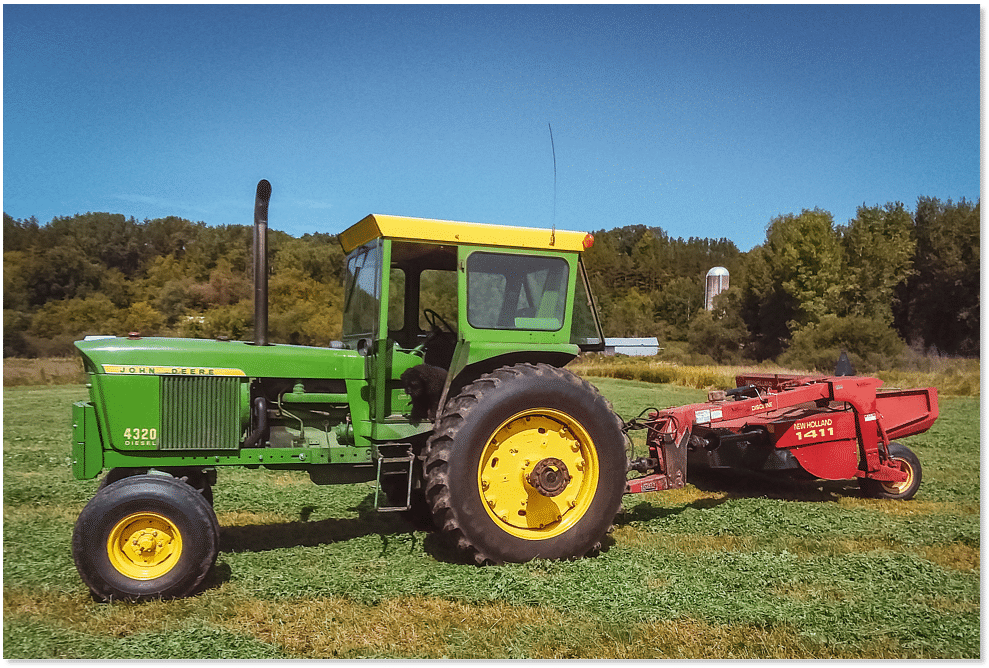 However, the modern farm has evolved, and most equipment needs to be capable of more than the 4320 can feasibly provide. Where a 2WD tractor used to be able to handle what a farm needed, today's farm typically needs an all-wheel drive tractor with enough grunt to drag bigger implements around.
Good For Secondary Duties
That said, we think that the 4320 is still a great buy for lighter duties, and we see quite a few of them at auctions (search John Deere tractors at auction). They work great for chores like auger and hay rake duty, they'll drag a 10-12′ mower without much trouble, and if they've got a cab and A/C, they'll make a good baler tractor, too.
There ARE a few things to watch for with these tractors, though. Here's a couple of things to pay attention to when checking them over.
Many farmers turned up the fuel pump a little a lot on the 4320, so it could need rebuilt at some point. It's not really something to be scared of, but go into it with your eyes open.
Clutches are a known failure point (especially if the fuel pump was cranked up). If you're onsite and have the opportunity to do so, you'll want to see what the service history looks like.
In short, there's a reason that the 4320 is still the most popular tractor on Tractor Zoom; it's one of the great pieces of farm equipment that built this country, and it's still doing it today!
A New Generation of The John Deere 4320
The John Deere 4320 is an extremely versatile compact tractor with the power to complete every job. It runs on a clean, effective engine with the option of a PowrReverser or the EHydro transmission. You can make this machine whatever you need it to be with an array of attachments.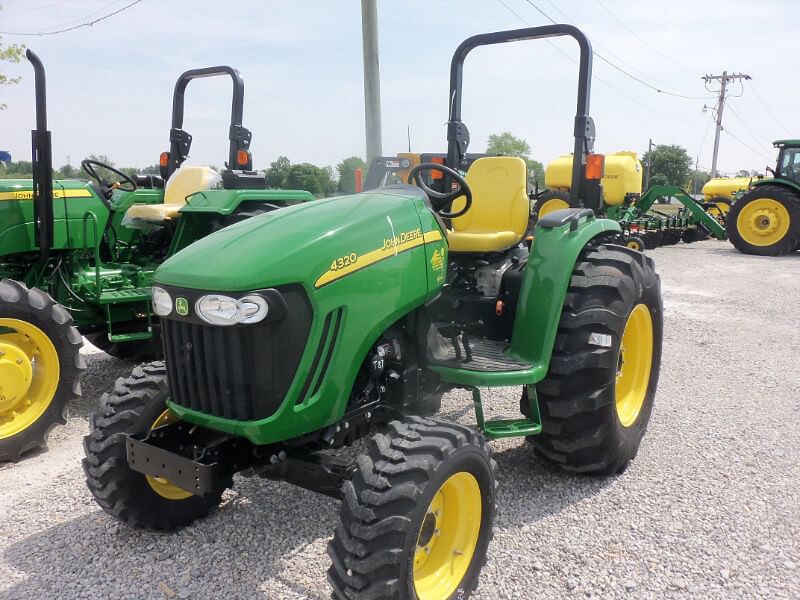 Photo courtesy of Silver Spade

John Deere 4320 Specs (New)
This tractor runs on a turbocharged diesel engine. It runs cooler because it can easily accept synthetic fuels; it's also more efficient, as diesel engines convert 45% of their fuel into energy (gas engines only convert 35%).
Potentially the best feature of the 4320 is the 12-speed PowrReverser transmission. This feature gives the user a larger range of motion. The PowrReverser usually lives longer because it has a more durable "wet" clutch, too.
However, there is always the option to choose the eHydro transmission, a three-range electronic hydrostatic transmission. You can match the speed of your tractor with the demands of your job with the eHydro. Without clutching you can change direction quickly and easily.
John Deere 4320 Parts & Accessories
John Deere has lots of attachments for the modern 4320 tractor, as with most of their machines. Categories include hay, landscaping, livestock, equine, loading, digging, mowing, seeding, snow removal, and tillage. You can find practically any attachment for the job.
John Deere built the original 4320 in 1971-1972, and the modern version from 2005-2014. In recent years, the 4320 has been redesigned to be a comfortable compact utility that's ready for hard work. They've become very popular in the market for this very reason. At auction, modern 4320's between are selling for around $20-30K, depending on hours, and attachments included. They're selling for a fair price given their array of uses and high demand.
If you're looking for a tractor with lots of power that's equipped for any small or medium job, the 4320 may be the perfect option for you. Search our website to see if we have a John Deere 4320 auction near you.